Mulching, which means placing certain materials over the soil surface to improve soil conditions while maintaining moisture, is one of the best ways to care for your trees.
Some of the benefits when you properly mulch your trees include:
Helps reduce moisture loss through soil erosion
Helps control weed germination and growth
Certain mulch types decompose thus can improve soil fertility
Reduces the likelihood of lawn mower blight
Inhibits certain plant diseases
Insulates soil, protecting roots from extreme summer/winter weather
Improves soil biology, structure, and aeration
Common mulching mistakes
To achieve the said benefits, however, you must properly mulch your trees. You must choose the right type of mulch material, keep the mulch away from tree trunks, and not exceed a certain mulch depth. If these guidelines are not followed, a lot can go wrong.
Common problems that may result from improper mulching include:
On wet soils, deep mulching can cause excess moisture in the root zone. This can stress the plant and even cause root rot.
Some mulch materials, such as those containing fresh grass clippings, can alter soil PH which can in turn cause toxic buildup and affect the availability of nutrients.
Piling mulch against the stem or trunk of a tree can stress stem tissues and cause girdling roots or the development of insect and disease issues.
If mulch is piled against the trunks of young trees, it can also create a habitat for rodents that can chew tree barks and girdle the trees.
Anaerobic mulch sometimes gives off pungent odors that may cause discomfort in the home. Additionally, the alcohols and acid buildup that often cause these pungent smells may be toxic to young plants.
Apply These Steps
The following are some tips to help you apply mulch correctly;
Start by assessing soil drainage.
If the site is well drained, apply a 2-4 inch layer of mulch. In poorly drained soils, a thinner layer of mulch is recommended. Other than drainage, mulch depth is also determined by mulch material. For coarser materials, slightly deeper mulches are recommended.
Ideally, the mulched area around the tree should extend to the drip line of the leaves. If that's not possible, spread the much to cover at least a 4-5 feet diameter around the trunk.
By the time you're done, the bark of the tree should be exposed down to the ground. Pull away any mulch piling around the tree trunk. A good idea is to pull away the mulch until you have a doughnut-shaped hole around the tree trunk as shown in the image below.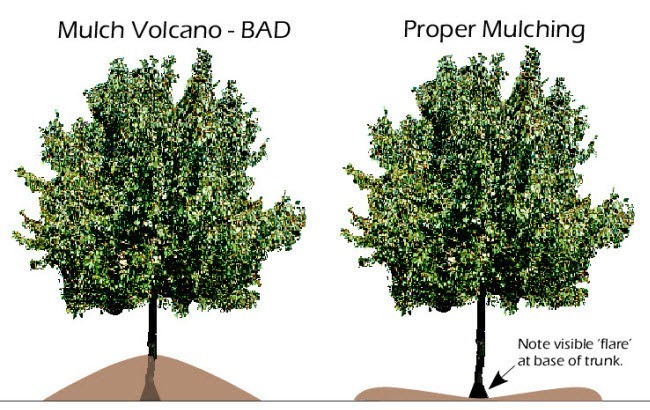 We can help
With over 25 years in the industry, Fox Hollow has both the expertise and experience to handle any landscaping project. Contact us today and let us help you with any mulching tasks as you seek to create those beautiful outdoor escapes you've always dreamed of.