Garden Edging Services, Why Bother With Borders?
Accentuating the borders on a lawn with edging materials not only improves the layout of the lawn, but it also provides functional value. If you have trouble mowing without your landscaping soil and grass mixing, if your landscaping soil runs into your grass when it rains, or if you just want more uniformity in your lawn, adding edging to your garden beds and shrub beds will fix your problems.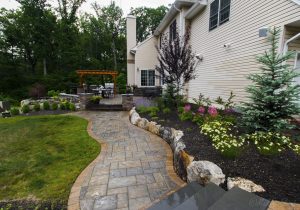 Aesthetic Options
Garden edging will likely require professional help if you choose to use landscape edging materials that are more aesthetic than they are functional. Aesthetic options are seashells, wine bottles, antique plates and tiles. These may require digging a trench to keep them rooted in the ground. Regular garden edging services will also include using trimmers or edgers to keep your grass out of garden areas and make your landscapes stand out more.
Hire-a-Hand Functional Options
You could use a trench itself as garden edging if you want a more minimalist look. However, these trenches will have to be done over again eventually. Forming trenches requires a special spade to dig a V-shape in the soil. It can be difficult work, though, and can take many hours, so you may want to consider hiring garden edging services to help if you want the job done more quickly. Trenches make it easier to mow alongside the landscaping, so you may not have to use trimmers or shears to cut the grass here. If you want to spice up your trench, you could place bricks or stones in the trench soil so that only about half of an inch is visible above ground. However, you may want to make a landscaping no-dig border instead.
Do-It-Yourself Functional Options
If you do not want to spend hours digging a trench, you can opt to combine edging materials for a functional yet aesthetic landscape border. The sturdiest garden edging materials are plastic, aluminum, concrete and brick. These will not easily topple, so you can place them directly in your grass instead of digging a trench for them. For example, a plastic roll of edging, spikes, concrete mix and your choice of landscaping block can be used together. First, get your plastic fencing or roll spiked into the ground. Then, pour concrete mix from the inside of the edging to about one foot inside the landscape. Lay your blocks down on top of the mix. Fill in the gaps between your blocks with more cement. Spray everything with water to set the concrete. Cover any remaining visible concrete with dirt you used in your garden.
Getting Started with Garden Edging
If you have multiple landscapes or gardens, you want their borders to either contrast or be uniform. Make sure the colors of your edging complement your foliage, patio, sidewalk and house as well. Before you proceed with any do-it-yourself projects, compare the cost with hiring a landscaper. At the end of the day, you want your edging to be functional more than anything.