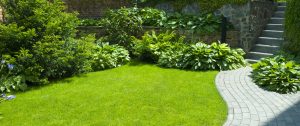 Spring is in the air, which means it's time to start preparing your garden for the warm season. In particular, that lush, green summer lawn. Follow these five steps to be assured of a beautiful and easily maintainable lawn throughout the summer months.
Step 1: Mow
The first thing to do is to clean up your lawn, clear away any debris from surrounding trees and plants and then get back into the mowing habit that you put in hibernation during the winter. Trim grass once a week and keep it free of clutter and pests.
Step 2: Weed, Aerate, and Scarify
Go to work on the weeds and moss that have built up in various parts of your lawn. Most weeds can take root and thrive anywhere, while moss grows in wet, shaded areas. Pull weeds out by hand and use scarification to clear moss infestations. Scarification (just a fancy word for a good raking) is also an effective way to clear other unwanted pests and debris from your lawn. Aeration will help you loosen up soil that has become hard and impacted during the summer months, allowing water and nutrients to get through to the roots.
Step 3: Fertilize
Feed your lawn liberally during the spring and early summer months. Get a good fertilizer that is formulated specifically for the season to reinvigorate the grass and reduce the growth of weeds and moss.
Step 4: Sow
You may have some areas that have become patchy and sparse over the course of the winter. Now is a good time to plant more grass seed to fill up those gaps. Break up the soil, rake to make a reasonably even surface and then sow the seeds before lightly raking again so the seeds are incorporated into the soil. If the weather is a little dry, water the replanted areas lightly using your sprinkler hose attachment or sprinkler system.
Step 5: Water
Speaking of watering, be sure that your lawn gets enough. If rain is not forthcoming for a while, water your lawn yourself at least once a week, making sure to aerate the hard and dry spots so that the water can penetrate to the roots.
Fox Hollow Landscaping and Design can help you create the perfect summer lawn. Contact us for unparalleled landscaping and expert garden design as well as maintenance throughout northern New Jersey.